EDI as a Carrier and If It's Proper for Your Industry
With more and more options than before for EDI, it's important to know options come with positives and negatives in order to evaluate before making a decision.
One offering on the market is called EDI as a service, also known as EDI outsourcing or EDI outsourcing providers. What this service does is enable delegation of Electronic Data Interchange (EDI) to an outside service provider for provisioning, implementation and management activities. By utilizing a third party, businesses are able to focus on other activities while the provider can produce results rapidly while avoiding common errors.
How to Know if EDI as a Service is a Fit
The first part of the research process for determining whether EDI as a service is a viable option for your business is understanding that each situation is different and every business has unique needs. When planning and evaluating EDI software, keep in mind that operational simplicity comes at a cost. In knowing your internal strengths and capabilities, you'll be able to better understand your abilities and needs.
If you're still on the fence about self-managing EDI or if you should outsource your EDI needs, take a look at the chart below for a quick overview.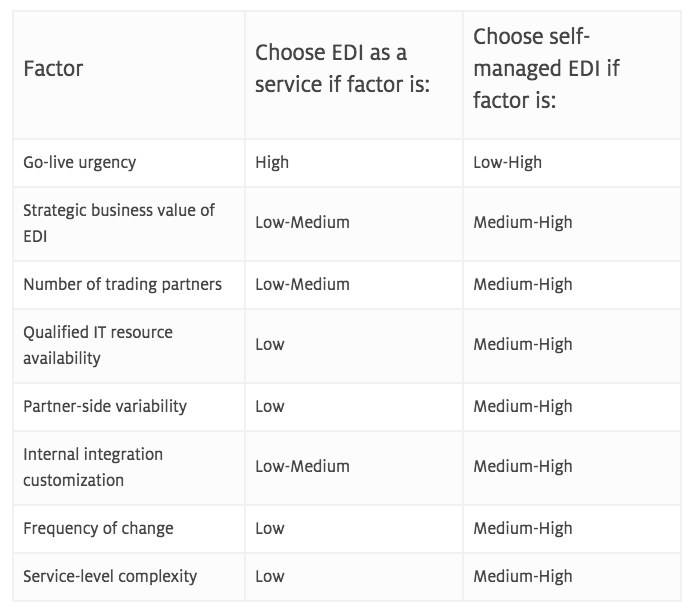 Go-live urgency: Modest implementation requirements meaning few trading partners, etc., EDI as a service will require less time and effort than self-managed EDI.
Strategic business value of EDI: Information-driven businesses with strategic stakes in reliable, responsive EDI typically prefer the increased control available through self-managed EDI.
Number of trading partners: With hundreds or thousands of trading partners, businesses will experience higher change management and exception management costs either way. If your business is focused on customer service excellence, you may be able to provide better service at lower cost in supply-side and intermediary businesses with self-managed EDI over EDI as a service.
Qualified IT resource availability: Companies without EDI experience or available IT resources that are available to be trained are typically good fits for EDI as a service.
Partner-side variability: Having a wide range of implementation capabilities for intermediary and supply-side businesses that are able to accommodate transaction, protocol, and service-level demands of many customers are typically better fit for self-managed EDI.
Internal integration customization: For those who look to minimize manual processing errors and delays, integrating EDI processes directly with business-specific applications and data is more easily handled by self-managed EDI due to the last-mile integration requiring internal business and IT system knowledge.
Frequency of change: Self-managed EDI allows for greater control over implementation speed and costs for suppliers of commodity goods and services where there is commonly high partner turnover, with higher onboarding and maintenance urgency.
Service-level complexity: When a higher degree of control is needed over exception-handling and change response, self-managed EDI is able to offer a better outcome than EDI as a service when large trading partners may impose strict service level conditions including charge-backs, vendor scorecard penalties or other negative consequences.
One option not mentioned above for consideration in deciding between EDI as a service and self-managed EDI is operating expense (opex) budgeting because it is available for both and is no longer the deciding factor it once was.
There are many reasons EDI as a service or self-managed EDI can serve as a better fit for your business, and it's important to foresee potential pitfalls before you make a solid decision. This post is part of a series of 10 pitfalls to avoid by better understanding all that's involved in selecting the EDI option best suited for your business needs.